Korean Skincare : Since the past few years, korean skincare has been emerging and starting to dominate the world's beauty section. From facial cleanser to sheet mask, a lot of korean beauty products receive praise for its result, which mostly make skin looks radiant with a healhy glow. Besides being famous for its results and cute packaging, korean skincare is also widely know for using unique ingredients.
So Inspirasi Pagi has sorted several unique ingredients that are commonly used in korean skincare, which –probably- will make us tilt our head in confusion, and their benefits so we can choose our products wisely.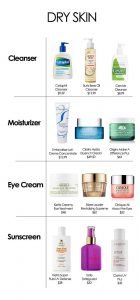 Snail Slime
It is a little bit weird to see this kind of ingredient shows up inside a beauty product, but actually snail slime could bring a lot of goodness to our skin. Snail slime or snail mucus turns out to be one of the best ingredient to defeat wrinkle. It will evidently slow aging, tighten pore, improve skin elasticity and provide optimal hydration. No wonder snail slime becomes one of the most hyped ingredient in korean skincare and of course products containing this mucus become the most wanted ones.
Bee Venom
When we were younger, our parents would ask us to get away from the bee hive so we wouldn't get stung. Surprisingly, a lot of korean skincare companies use bee as one of its ingredients, more precisely bee venom. It might sounds horrible, but actually the bee venom could force blood to rush to our face and stimulate the skin to naturally produce higher amount of collagen and elastin, which cause our face to become smoother. Bee venom also help skin recovering from damages and developing healthier skin with brighter complexion.
Makgeolli
Makgeolli is a korean traditional rice wine. Well, rice is already widely known and used as an ingredient for beauty products, since it has this benefit to brighten up skintone up until two shades lighter. But how about makgeolli? It turns out that makgeolli extract can help in protecting skin from free radicals and oxidative damages. Nice, isn't it?
Those three ingredients above are several most used korean skincare's unique ingredients. Besides them, there are also a lot of other over the top ingredients such as horse oil, salmon oil, donkey milk and so on. What Inspirasi Pagi wants to tell you is to make sure checking out the ingredients before you buy something and adjust with your skin concerns to reach the perfect results you want. So be happy, be healthy and be pretty!