Kawah Ijen, which literally translates to "Ijen Crater," is located in far eastern Java island. This crater is in between Banyuwangi and Bondowoso city. Thus, you can reach Ijen Crater through those two cities, but tourists tend to transit in Banyuwangi because of the good infrastructure. To go there, you can take the train from Malang or Surabaya to Karangasem station or, alternatively, the ferry from Bali to Ketapang. After arriving in Banyuwangi, you can take the package to Ijen Crater from the local travel agent or you can take a ride to Patulding (the entrance of the crater). Due to the danger involved in entering the crater, hiring a guide is highly advisable. Entrance to the park costs Rp. 100,000 (Rp. 150,000 on public holidays), which does not include a Rp. 30,000 camera fees. Here, you can find beautiful places at once.
Ijen Crater has Acidic Lake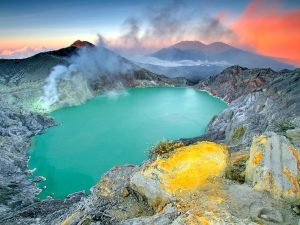 The top of Ijen volcano is characterized by a very acidic crater lake containing 27.5 million m³ of turquoise-colored water. FYI, this lake is the biggest reservoir of hot and acidic water on Earth!
Sulfuric Crater
The Ijen crater ejects tons of sulfur every day. At night, this site is one of the only spots on Earth where it is possible to see blue fires. This is due to very hot gas coming from the volcanic conduits burning the sulfur, which leads to an extremely beautiful scenery.
Beautiful Blue Fire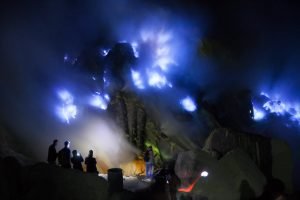 This fire is rare and there are only two places on the world. The other blue fire is placed in Iceland. It is such a precious thing for Indonesia, isn't it? This phenomenon only can be seen at night until before sunrise. So, it's better for you to start climbing before 12.00 A.M then you will arrive at the top at 02.00- 03.00 A.M.
In short, Ijen crater is one of the best places to be visited moreover if you are a mountaineer. You can plan to go there in July- September. It is the best time for you to visit, since it's summer. Grab your hiking equipment and take beautiful photos there! Don't be so blue because blue fire is awaiting!
Similar article: 
Pundak, the best mountain for beginner